Farrow and Ball's colors are just perfection. One of my favorites is Arsenic. It's a lovely bluey jade green.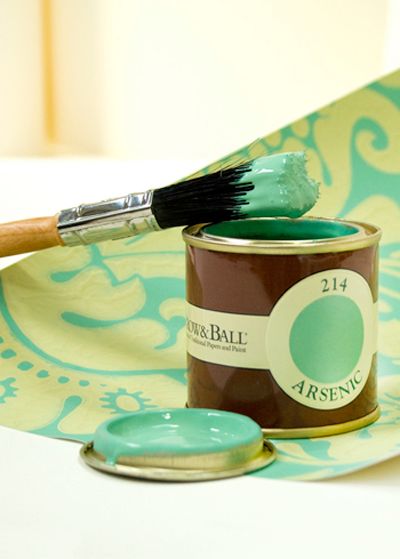 The arsenic color was used on the walls of this pretty Victorian house featured in
Living Etc
. It's such a pretty, clear color.

A couple months ago I bought about 10 triple rolls of this wallpaper at the Brunschwig and Fils sample sale. It's pretty spot on with the arsenic paint color. I think I paid either $2 or $3 a roll. It was insane.


It wasn't until I got home that I realized that half of the rolls were a smaller, different pattern. I'm thinking of using the smaller pattern on the daybed wall in my office.
I've got plans for a big piece of modern art layered on top to mix up the more traditional pattern. I'm super excited.

Spoiler alert: I brought a few rolls of the bigger damask with me to Arizona. Mom and I did a little mini-reno of her kitchen this week and the wallpaper makes an appearance. Can't wait to share the photos next week. I'm trying to dig up some before photos for you. Aren't afters are always better when you can see the befores?

Happy weekend! xoxo