So, there won't be a blogger tag sale (at least, not this month, and not in DC), but I will be bringing tons of home stuff and some furniture items to the
Arlington Flea Market
on August 7.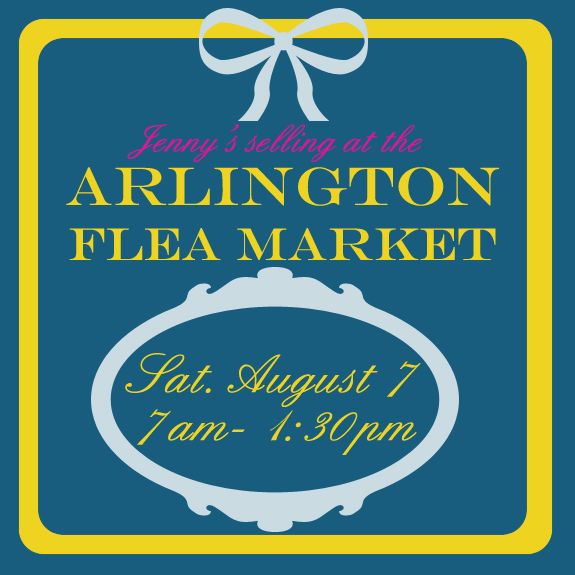 The flea market is held in the parking garage (which is covered! Come rain or shine!) at the intersection of North 15th St and Quincy in Arlington, near the Planetarium and Washington-Lee High School.
Here is a link to the map
.
If anyone is interested in joining me and the other regular vendors, the cost to sell is $20 per 10'x20' space. You have to supply your own tables. No registration needed - it's first come, first served. Email me if you want more info.
I'm working on taking photos, but here's an estimation of what I'm bringing. Most of the stuff in our home is getting sold.
**thanks for all the emails about the red office credenza! I'm not sure if I'm going to sell that one or keep it (it's really, really great storage), but I'll be sure to do a post if I decide to sell.
***Another Update: I've received a lot of questions about pricing. Here's the deal. A lot of the things I'll be selling need work (like a paint job, rewiring, new upholstery, etc). So I would say prices are flea market or thrift store range. For example, the blue wing backs from my living room are $50/pair. Lamps are between $3 and $15. I would say most of the smaller stuff is less than $20. Please understand though, that this is all stuff with potential, that needs work.***
15-20 chairs
20 lamps, quite possibly as many as 40. Don't judge.
20 mirrors
10 side tables
console tables
Art: paintings, prints, photography
Frames galore
Pillows
FABRIC!!!!
8 twin bed frames (including that pair of Chiang Mai upholstered headboards)
And speaking of Chiang mai - my dining room settee
Chandeliers (I can think of three off-hand)
2 dining hutches
at least two dining tables
vintage tufted french sofa
Boxes and boxes of cool old books
Ginger jars
Jewelry boxes
All aspects of tchotchkes/accessories
Vintage china
Rugs
Curtains - any and all currently in my house, plus others.
Apothecary jars
Garden Stools
Office chairs
Aqua Parsons Desk
Scrolly french desk
Benches and stools like it's nobody's business
etc. (and lots of it)